Un aprendizaje similar al de los niños aumenta el tamaño del cerebro adulto.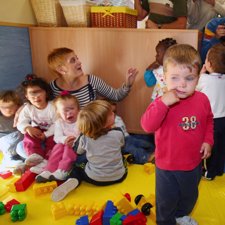 El cerebro adulto crece después de dos horas de aprendizaje similar al infantil, según un estudio de la Universidad de Hong Kong en China que se publica en la edición digital de la revista 'Proceedings of the National Academy of Sciences' (PNAS).
Los investigadores, dirigidos por Li-Hai Tan, utilizaron tareas auditivas, de nomenclatura y emparejamiento para enseñar a 19 adultos nombres artificiales de dos tonalidades de color verde y dos de color azul.
Las imágenes del cerebro de los participantes mostraron que en cinco sesiones administradas en 3 días, el entrenamiento total de una hora y 48 minutos, el volumen de materia gris cerebral de los participantes aumentó en áreas asociadas a la visión del color y la percepción.
El entrenamiento fue diseñado para imitar las rápidas e intensas asociaciones entre palabras y objetos que se producen en los inicios del desarrollo verbal infantil.
Estudios previos han determinado que la materia gris aumenta en los adultos pero sólo después de experiencias que duran entre semanas y años. El estudio sugiere que el cerebro adulto humano intacto es estructuralmente más plástico de lo que se pensaba.
Los resultados proporcionan también evidencia estructural que apoya algunos experimentos anteriores de percepción del color y el lenguaje, que concluían que los límites de las denominadas categorías del color afectan a la capacidad de las personas para percibir las diferencias de color.